The big basilica which is dedicated to Agios Mamas, was built with the contribution of all the inhabitants of the community and it is situated on the east side of the village.
It is quite big and its capacity is 500 people.
The church is painted with white color. In the big yard stands the tall and bell tower with two giant bells. It is actually on the east side and it abuts on the church.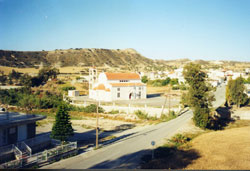 The church of Agios Mamas
Inside the church, there are magnificent wall paintings with unique shapes. They are placed above the sanctuary. One of them depicts Panagia Platitera. Next to this one there is a wall painting of Adam and Eve. On the right side of the church there is a wall painting of Theodoros Stratilatis and Archangel Daniel.
The wooden iconostasis is beautiful and it has many portable icons. Above the icons there is another zone which is more narrow, and includes 12 smaller icons, the so called Festal Cycle or Dodekaorton. The icon which is dedicated to Agios Mamas, is placed on a special case, next to the south door of the church. It depicts the saint sitting on a lion and holding a lamb. It is a very old icon.
There are also two wooden psalters and a despotic throne. The gallery is very big, its capacity is 100 people. It is amphitheatrically built.
The community of Alaminos celebrates the feast day of the saint on 2nd September with a procession of his icon. Many people from the area but also from other cities and villages visit the church at this day.